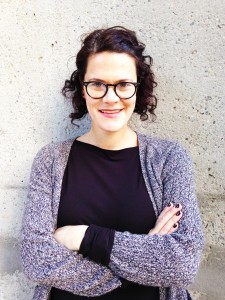 I am currently the Research Program Manager at The Humanities Institute at UC Santa Cruz. In this position, I manage a large Mellon-funded project focused on supporting graduate student success and public scholarship. Before moving to The Humanities Institute, I built the Digital Scholarship Commons at the UC Santa Cruz University Library. I started at UCSC as a CLIR Fellow, working as the Digital Humanities Specialist to foster digital humanities scholarship on campus.
I received my PhD in History from the UCLA  based on my dissertation, "'In a world still trembling': American Jewish philanthropy and the shaping of Holocaust survivor narratives in postwar America (1945-1953)." This work reveals how American Jews first came to know stories about Holocaust survivors through the efforts of American Jewish communal organizations in the postwar period. I am interested broadly in the transmission of knowledge about the Holocaust, the immediate post-Holocaust moment, and the changes in technology that allow survivor narratives to be collected, preserved and viewed.

To further explore the creation of Holocaust narratives in the immediate postwar period, I have created an online exhibit that traces the stories of three Holocaust survivors. Check out Memories/Motifs and explore the Memories/Motifs blog, which connects concerns about postwar memory to contemporary memory and memorial culture.
Contact me at rdeblinger@gmail.com or @racheldeblinger